One Saturday morning in May 2010, Francisco Gomez Escobar was walking just yards from his apartment building, chatting with his roommate and friend Edith Santiago. Gomez, a 35-year-old landscaper from Mexico, and Santiago, a 51-year-old janitor born in Camden, New Jersey, were trying to decide when to meet after he went to a flea market and she visited a thrift store. A police car pulled up.
It's not clear what the police were doing there. Santiago's lawyer says the two officers told him they were investigating a loud party from the night before, while a police spokesman says Gomez had seen the officers minutes earlier and aroused suspicion by trying to avoid them. Santiago, Gomez, and a neighbor say the cops immediately started asking Gomez about his immigration status, then roughed him up and arrested him. They apparently were suspicious about a blender, a boombox, and CDs that Santiago and Gomez were carrying. Santiago and Gomez say they were taking them to sell at a flea market, and the police spokesman says the officers did not have probable cause to charge them with any crime related to the items. The incident nevertheless landed Gomez in an immigration jail two states away, where he has been confined for nearly a year while he waits to see whether he will have to leave the country where he has lived for at least the past 15 years.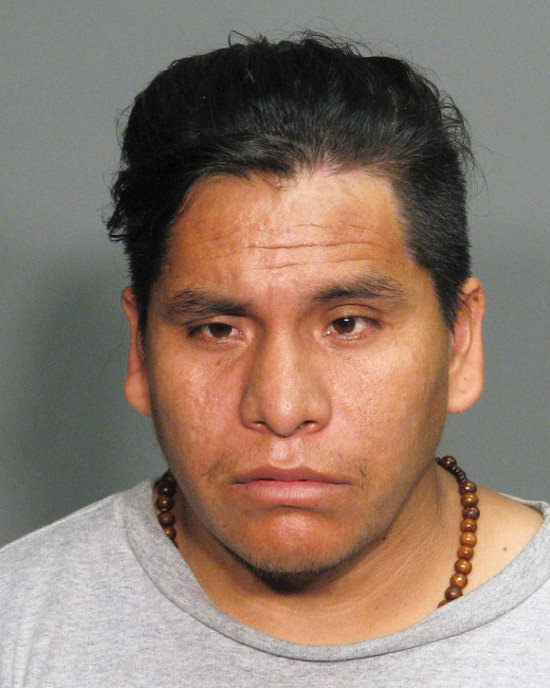 This encounter did not take place in Arizona, where a controversial law enacted last year, on hold as a result of a federal injunction, requires police to question suspected illegal immigrants about their citizenship status. It happened in Raleigh, North Carolina, where Police Chief Harry Dolan has spoken out against the Arizona law. Raleigh police are not even among the 70 or so municipal law enforcement agencies in 26 states that are trained to enforce federal immigration law by U.S. Immigration and Customs Enforcement (ICE). That program, authorized under Section 287(g) of the Immigration and Nationality Act, has expanded dramatically since 9/11.
For Gomez, it didn't matter that Raleigh police don't participate in 287(g) because the Wake County Sheriff's Department, which runs the local jail, does. The department was also the first agency in North Carolina to sign onto the Department of Homeland Security's Secure Communities program, which means deputies have ready access to ICE databases and electronically alert the agency when an unauthorized alien has been fingerprinted in the jail. That's how Gomez ended up behind bars.
Secure Communities and 287(g) are supposed to focus the federal government's immigration enforcement powers on "criminal aliens"-illegal immigrants who commit crimes and thus come into contact with local cops performing their regular duties. In practice, however, many noncriminal aliens, whose lawbreaking is limited to the civil offense of living in the United States without permission, get swept up in this dragnet. As a result, they are treated like criminals, but without the legal protections that criminal defendants enjoy. They are subject to indefinite detention, and they can be ordered out of the country based on a legal process much less rigorous than a criminal trial.
In the post-9/11 political climate, local cops are tasked with enforcing civil immigration laws, whether they've been trained for it or not. Rogue officers can set an immigrant on a path to detention and deportation even if immigration enforcement is not within their authority. While detained, suspected illegal aliens may suffer from medical neglect and physical abuse. Their freedom, health, and safety depend on the whims of police, federal agents, judges, and jailers.
Federal Law, Local Enforcement
The overall number of noncitizens apprehended by federal authorities fell by almost two-thirds between 2001 and 2009, from about 1.6 million to just over 600,000. Yet the number detained in ICE jails during this time rose by 85 percent, from 209,000 to a record 383,500. Some 32,000 are in detention on any given day in about 370 facilities across the nation, most of which are state prisons and local jails in which ICE pays for space.
The assistance of local law enforcement agencies has played a crucial role in the surge of detentions. As of March, more than 1,100 local jails across the country, 36 percent of the total, were participating in Secure Communities. As a result, an undocumented immigrant jailed for any reason anywhere in Florida, the Southwest, or the mid-Atlantic states faces potential deportation. By 2013 ICE aims to have full participation by every local jail in the United States, which will result in an estimated annual identification of 1.4 million undocumented immigrants (out of 11 million or so currently residing in the U.S.).
Because they lead to incarceration, 287(g) and Secure Communities effectively criminalize immigration violations, which the U.S. had historically handled as civil matters in special administrative courts. Immigration courts, crucially, are not bound by the same rules as criminal courts. Suspected illegal aliens do not have an absolute right to an attorney: The government can't stop them from hiring a lawyer, but they can't fall back on a public defender. Nor do they have a right to see exculpatory evidence. Judges can allow hearsay and illegally obtained evidence. To make its case, the government has to provide "clear, unequivocal and convincing evidence," not the proof "beyond a reasonable doubt" required in criminal cases. Hence an immigrant like Gomez can be deported even with only doubtful evidence that he entered the country illegally, and even if the police never should have approached him in the first place. Nor can he count on the immigration courts to protect what limited rights he has. According to the American Bar Association, immigration judges apply the law inconsistently and the Board of Immigration Appeals "unduly favor[s] the government at the expense of the noncitizen."
Since ICE detentions have risen dramatically in the last decade, thanks largely to the assistance of local police, the immigration courts are clogged. Karen Grisez, an immigration attorney who chairs the American Bar Association's Commission on Immigration, says judges are under pressure to process detainees' cases within 60 days, meaning nondetained immigrants have to wait at least a year for their cases to be heard. And when they are, judges limit the hearing to two hours, which leaves little time to call witnesses. "You can be precluded from making your best case," Grisez says. "The problem is not really that the law has changed but the more aggressive enforcement."
Officially, the enforcement efforts are supposed to focus on spies, terrorists, violent criminals, felons, repeat offenders, gang members, and others who "pose a serious risk to public safety." In a March 2011 memo, ICE Director John Morton reiterated this policy, which was developed under President George W. Bush and maintained under President Barack Obama.
But the record of ICE's "fugitive operations teams," which track and arrest illegal immigrants at their jobs and in their homes, suggests that the agency is not following its official policy of deporting immigrants who commit crimes, as opposed to violating civil immigration rules. Between 2003 and 2008, according to the Migration Policy Institute, a D.C.-based think tank that studies immigration around the world, only 27 percent of the people arrested by the teams had prior criminal records of any kind. Similarly, according to a 2009 report from the Department of Homeland Security (which oversees ICE), two-thirds of all ICE detainees between 2007 and 2009 had no prior criminal record.
Furthermore, some detainees with criminal records committed their offenses long ago, but ICE is moving only now to deport them, even if they have been living in the country legally for many years. In North Carolina, Hector Villanueva, a Baptist pastor with a valid green card, faces deportation because ICE agents learned of a 15-year-old burglary conviction in California. In New York, the Dominican cab driver Eligio Valerio is fighting ICE's attempt to remove him from the country for possessing an illegal gun in 1982, shortly after he became a permanent resident.
You might think that partnerships with local police, whose mission is to protect public safety, would help ensure that immigration enforcement focuses on dangerous criminals. But officers participating in 287(g) and Secure Communities can choose to round up illegal immigrants, including otherwise law-abiding people who came to the U.S. to work and support their families. Under 287(g), Grisez reports, police have gone to apartment complexes looking for one family, found they had moved, and then questioned the new tenants about their status. "Even though all of the laws on their face say there can't be racial profiling," she says, "some of these cooperative agreements lend themselves to officers going a bit overboard."
In fiscal year 2009, local law enforcement agencies participating in Secure Communities arrested 111,000 undocumented immigrants, nearly one-third of the national total. According to ICE, less than 10 percent of them were charged with violent crimes. Between 2007 and 2009, researchers at the University of North Carolina at Chapel Hill found, only 13 percent of immigrants detained under 287(g) in that state had been charged with felonies. In some counties, the UNC researchers found, the only charge for nearly a third of the immigrants deported was driving without a valid license.
Since undocumented immigrants cannot legally obtain driver's licenses in many states, 287(g) and Secure Communities invite racial profiling of Hispanics through license checkpoints and traffic patrols. "If the only charge they could find to put on a driver is driving while license revoked," says Elizabeth Simpson, an immigration lawyer with the Southern Coalition for Social Justice who is representing Gomez pro bono, "I have to wonder why they pulled him over in the first place."
A Year in Jail
In Gomez's case, police charged him with resisting a public officer and disorderly conduct; they charged Santiago with resisting and assaulting an officer. All of these are crimes they could have committed only after the officers approached the two of them. According to Santiago, the officers tried to link her and Gomez with a loud Memorial Day weekend party that had stretched into the early morning hours that Saturday, a detail not mentioned in the arrest reports or warrants. She and Gomez say they were never at that party, just walking down the street in broad daylight. A neighbor anonymously told the Spanish-language Raleigh newspaper Que Pasa it looked like the officers planned to arrest the pair as soon as they pulled up. "He never did anything to be arrested," the witness said. "They were only walking. To me, there was an element of discrimination."
In an affidavit, Santiago (who is Irish American but kept the surname of her Puerto Rican ex-husband) agreed. "Those officers targeted Francisco because he looks Latino," she wrote. "They got mad that he was just asking for his right to a lawyer and started beating him up."
Wake County jail records show Gomez suffered a bloody wound to his right arm. Santiago says that's because one of the officers jammed Gomez's arm into the concrete sidewalk while twisting his other arm behind his back and kneeling on his ribcage. The Mexican consulate in Raleigh asked the Raleigh Police Department to investigate the officers for brutality and racial profiling, but an internal affairs investigation concluded that they had conducted themselves properly. Raleigh police spokesman Jim Sughrue says the officers arrested Gomez for profanity, verbal abuse, and threats, while they arrested Santiago for attacking one of them. Santiago says Gomez was complaining about previous harassment by other officers and demanding to be left alone; she also admits she tried to pull the officers off him, but her charges didn't stick because the officers didn't show up for court.
Sughrue declines to talk about the officers' actions but says the department's "nonbiased policing" policy prohibits officers from detaining someone based on race, ethnicity, or national origin. A civil rights complaint about the incident filed by the Southern Coalition for Social Justice is pending at the Justice Department. "They never should have hit me or treated me in that manner," Gomez wrote in his statement for the Justice Department. "They were torturing me and abusing me for no reason."
For Gomez, the criminal charges and the true facts of the case were irrelevant; once he was in the Wake County jail, he was subject to an ICE hold. After he spent 18 days there, the prosecutor dropped the disorderly conduct charge and Gomez pleaded no contest to resisting the officers because his criminal defense lawyer (not Simpson) told him he'd be deported anyway and giving in would be the quickest way back to Mexico. He was sentenced to time served, and ICE immediately transferred him to the Alamance County jail, a holding facility an hour east of Raleigh. That jail provides ICE with up to 200 beds a day for $61 each.
From there Gomez went to the 1,900-bed Stewart Detention Facility in Lumpkin, Georgia, operated by Correctional Corporations of America, a private prison company that charges ICE $65 a day per inmate. CCA, which built the Lumpkin jail in 2004 and has profited from the immigration crackdown, contributed to the campaigns of the Arizona legislators who sponsored that state's law aimed at rounding up illegal aliens. The company is a member of the American Legislative Exchange Council, which lobbied for the new legislation, according to a 2010 NPR investigation.
Although he has resolved the charges against him in North Carolina, Gomez has been incarcerated in Georgia for nearly a year. He has been through several court hearings, and the slow pace of his prosecution is typical for such complex cases. In 2010 the American Bar Association (ABA) found that the average immigration judge hears more than 100 cases every month, which leaves little time for questions about police misconduct. Calling for reform, the ABA faulted Justice Department lawyers for failing to use prosecutorial discretion and overloading the system with minor cases.
Gomez had no lawyer during his first six months in ICE custody, which is the norm for immigration detainees. In fiscal year 2008, according to the Justice Department, only 16 percent of detained immigrants had legal representation. (The Immigration and Nationality Act gives noncitizens the right to legal counsel as long as they pay for it themselves.) The Migration Policy Institute says the average detainee spends 81 days in jail prior to a deportation order, then another 10 weeks after the order. Those who are eventually deported will have spent an average of six months in detention.
Simpson said William Cassidy, the immigration judge in Atlanta who is overseeing Gomez's case, has given him extra time to prepare a defense because of his allegations about police misconduct and the injuries he sustained during his arrest. Until Simpson took on the case in December, Gomez had to prepare his own pleadings. "Apparently he was convincing enough that the judge kept giving him more time," Simpson says, "which is actually fairly remarkable."
Simpson's defense emphasizes the circumstances of Gomez's arrest. She says ICE has the burden of proving he is an illegal immigrant, but any evidence it might present could have come only from an unjustified line of questioning by the Raleigh police officers, who have no authority to enforce immigration law. Eventually, she wants a hearing on whether any of that evidence is admissible. Because the rules of evidence are looser in immigration cases than they are in criminal cases, this strategy is iffy.
Cassidy will give Gomez a chance to present his case this summer. At a recent hearing, Simpson says, Cassidy considered her arguments for suppressing the evidence and terminating the removal process. This surprised her, she says, as most immigration judges "really do not want to hear about what the Raleigh P.D. did. For them, the manner in which someone comes into proceedings is completely ancillary to the 'truth' of someone's status or non-status."
Alternatively, she hopes Judge Cassidy will set her client free on bond if she can prove that the Justice Department needs him to investigate his civil rights allegations against the Raleigh police officers. The Mexican consulate has joined that request. Simpson thinks Gomez's alleged beating could be the factor that temporarily gains him legal status in the United States. Special "U" visas, which last up to four years, are available for victims of violent crimes.
"He was the victim of a crime committed by two police officers, and he is therefore potentially eligible for a U visa," Simpson argued in a motion to set Gomez free on bond. "In order to pursue his complaint effectively…Francisco needs to be in Raleigh, North Carolina-rather than detained in Georgia." Pleading for a bond in a written statement to Cassidy, Santiago said she and Simpson were struggling to fight for Gomez from North Carolina while he's incarcerated in Georgia. "If he's detained in Georgia, he won't be able to fight his case," she wrote. "He won't get a chance to prove what really happened."
'They Don't Want to Do Anything'
In the meantime, Gomez is asking for medical treatment for his injuries. When the officers arrested him, he was already nursing a spinal fracture from being hit by a car a few weeks earlier. He says one officer crushed his ribs and the other punched him in the back half a dozen times. He says his first lawyer had to pressure the jail in Raleigh to get the wound on his arm treated.
"It's been nine months now, and I still have a mark on my hand they gave me," Gomez wrote in a March statement to the Justice Department. "They think that I am fine, and this is not true. The truth is that my back hurts since the day they hit me, and the ribs at times also hurt.…I am going to make a report in this detention where I am now already. I made one, but they did not give me more pills for the pain, and I told them that I want an X-ray of my back, and they don't want to do anything for my case here in this jail where I am."
As with legal representation, access to medical care is extremely limited for ICE detainees, especially in giant immigrant-only jails, where the ratio of medical staff to inmates is lower than in ordinary jails. In 2008 The Washington Post documented the spread of tuberculosis and chicken pox, as well as deaths due to untreated heart disease and cancer inside immigration jails. Last year ICE settled a lawsuit in which the American Civil Liberties Union accused the agency of falling below federal jail standards by failing to provide proper medical care at the San Diego Correctional Facility. ICE had denied detainees treatments it deemed "non-emergency," including heart surgeries, cancer biopsies, and medication for chronic illnesses such as diabetes and high blood pressure.
During the first half of 2008, a quarter of medical personnel jobs in the immigrant detention system were vacant, according a U.S. Division of Immigrant Health Services report cited by The Washington Post. Studies by the ACLU and the Department of Homeland Security itself found the vacancies closer to 40 percent. A report by the Inter-American Commission on Human Rights, which earlier this year published a report critical of ICE detention practices, says facilities housing hundreds of detainees often have only one doctor working limited shifts. The Post reported that the South Texas Detention Complex in Pearsall had a backlog of 2,097 medical appointments in 2008. A December 2006 survey of three immigration detention centers by the Department of Homeland Security found that 41 percent of nonemergency medical requests were not being addressed promptly.
In 2008 representatives of the Georgia ACLU visited the Stewart Detention Center, where Gomez has been held. They met a man whose asthma had gone untreated for two months. He and others had infections and rashes they said they had contracted while in custody there. "This appears to undermine the [ICE] standard which states that 'detainees diagnosed with a communicable disease shall be isolated,' " the ACLU reported. The ICE Detention Standards Compliance Unit found conditions at Stewart to be deficient in 2007 but said they improved to an "acceptable" level a year later.
From October 2003 to November 2010, 115 immigrants died in ICE custody from various causes, including heart disease, cancer, and suicide. Last year The New York Times told the stories of one immigrant who committed suicide after jailers withheld pain medication for a broken leg, and another man who suffered from untreated and eventually fatal head injuries while officials debated how to avoid paying for his care and whether to send him back to Africa.
Jailers' treatment of immigrant detainees can go beyond neglect. Last August, Human Rights Watch reported on 15 female inmates who had been sexually assaulted or harassed by guards or ICE agents in eight different immigration detention facilities.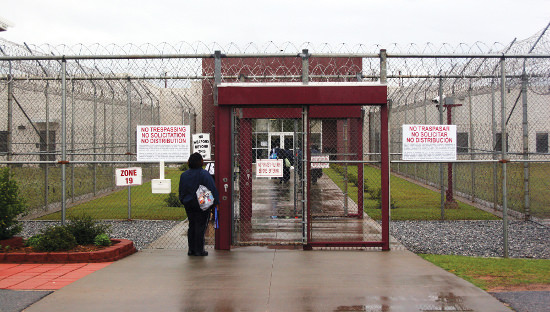 'An Honest, Law-Abiding Young Man'
Edith Santiago, a single mother of five, wants her friend to get a fighting chance at freedom. The two met when Gomez was in his early 20s, and she soon adopted him into her home. He had been living with another friend, and Santiago says he is no longer in touch with his family in Mexico. She says Gomez helped her care for her children, her ailing mother, and her baby granddaughter, who has cancer. "He is like a son to me, and it was like seeing my own child get beaten for nothing," Santiago wrote in her affidavit for Judge Cassidy. "I couldn't sleep for about four days after seeing what happened because I kept seeing those officers beat on Francisco."
Santiago's pastor, the Rev. Michael Morris of Raleigh's First Baptist Church, wrote to Judge Cassidy asking for a low bond to free Gomez while he makes his case to the Justice Department. "Francisco is a quiet person who always acts courteously," the pastor said. "He deserves every consideration as an honest, law-abiding young man."
But the way immigration laws are being enforced today doesn't treat immigrants like law-abiding people locked in civil disputes with the federal government. It treats them like criminals, with all the hazards and indignities of life behind bars.
Jesse James DeConto writes from Durham, North Carolina. An award-winning newspaper reporter, most recently at the Raleigh News and Observer, his work appears regularly in The Christian Century and Prism. This column first appeared at Reason.com.